Dining in Cape Town is a memorable experience, with the freshest ingredients, beautiful interiors, breath-taking views and world-class wines. Experience upscale atmospheres serving dishes with international influence as well as cuisine with distinctly Cape-Town ingredients and flavours.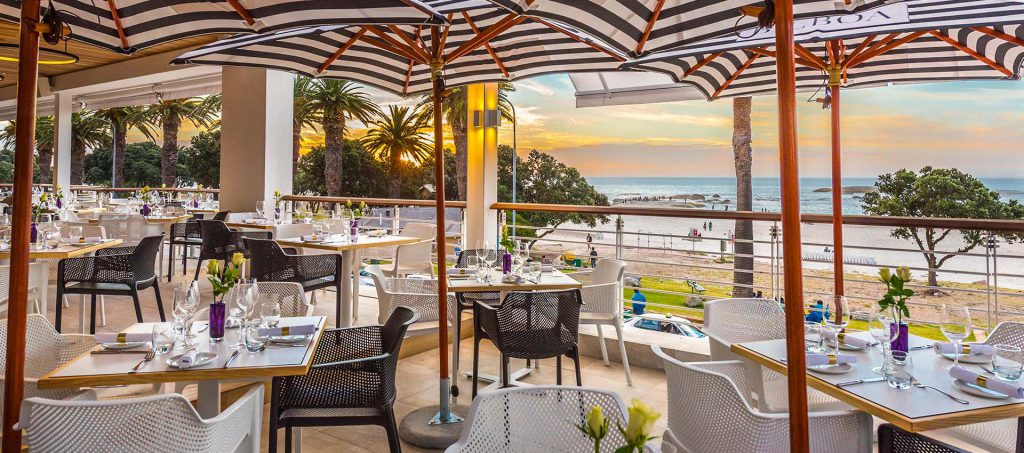 Camps Bay Restaurants:
Bilboa
Breezing onto the Camps Bay strip, Bilboa brings with it its own brand of contemporary chic, exclusive location and enviable views across the Atlantic Ocean. Diners are offered a contemporary space, unlike any other along the beachfront. Coupled with an uninterrupted view, this lends Bilboa to an elevated level of sophistication accompanied by a contemporary Mediterranean seafood-inspired offering.
Surf Shack
A contemporary seaside diner on Camps Bay's trendy beachfront. Perched on a prime location – this new contemporary seaside diner adds a little extra flavour to the Camps Bay golden mile. Surf Shack takes up residence directly above Paranga, and thus treats patrons to panoramic ocean vistas complete with stunning sunsets. For lovers of diner classics, a vibey buzz and rustic yet stylish decor, look no further.
Tigers Milk
Tigers Milk is the best destination for 'dude food', made good. Epitomising handcrafted goodness with a menu that takes pizza, grills and burgers to the next level, pair these with our locally made Tiger's Milk Lager and you're sure to leave satisfied.
Ocean Blue
Set in the heart of Camps Bay, Ocean Blue is the locals' and travellers' favourite since 1998! Our recent renovations have made your visit more comfortable and with an even better view of the ocean.
Paranga
Paranga's unparalleled view will satisfy even the most discerning eye. This ground floor location is in line with the beach. Whether you choose to savour your meal with the sun on your skin surrounded by the vibrant energy of this world-renowned destination, or prefer the cozy intimacy of the luxurious interior, you are assured of a stunning view over the Atlantic Ocean and an authentic Camps Bay culinary seaside experience.
Zenzero
Zenzero wraps you shamelessly in 'La Dolce Vita' whilst gently caressing you with a cool Atlantic breeze. Robust with the full flavours of Italy – fresh produce and feisty, zesty, spicy touches – indulge in her seafood pastas, signature risottos and spirited vibe.
Codfather
Relaxed contemporary restaurant with terrace for seafood and sushi and views of ocean and mountain.
Clifton Restaurants:
The Bungalow
Experience the ultimate in Clifton cool with commanding views of the Twelve Apostles, Lion's Head and the Atlantic Ocean. Come in straight off the beach and mix with the city's elite in a vibrant cocktail of champagne and sunsets.
Sit back, relax and take in the vibe at the ultimate summer location.
Mediterranean cool meets Cape Town chic at the Atlantic Seaboard's most sought-after space.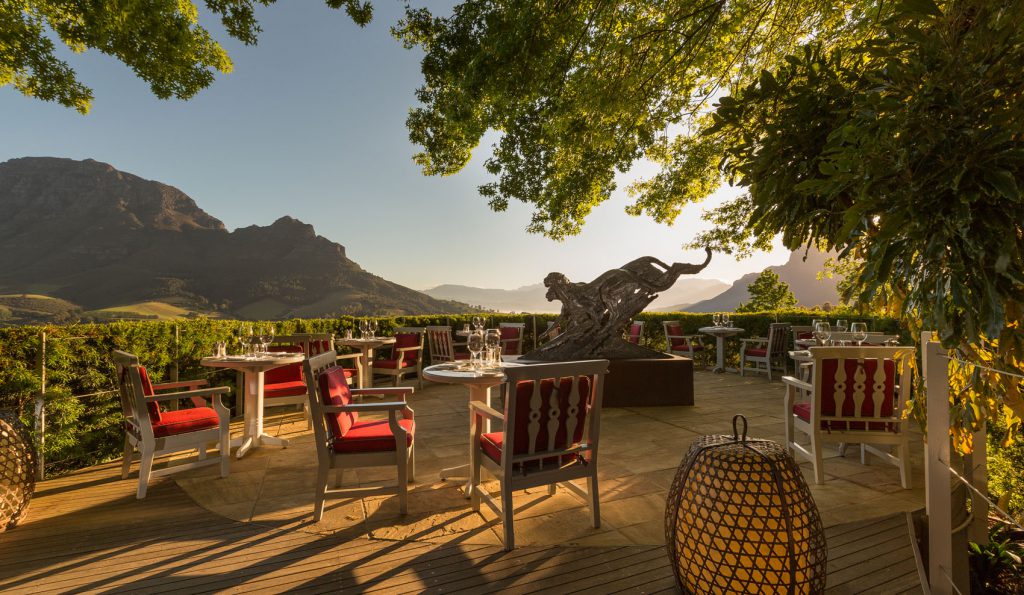 Winelands:
Chefs Warehouse Constantia
A modern dining space with a sleek open-plan kitchen overlooking the Constantia wine valleys, Beau Constantia offers a casual fine-dining experience.
Babel
Housed in the old cow shed, Babel Restaurant is a wonderful mix of Cape Dutch architecture and contemporary glass walls that makes for a simple yet edgy environment in which to try their tasty yet often unconventional combinations. Babel has a farm-to-fork philosophy which means they like to serve food that is seasonal and that reflects their "pick, clean and serve" approach.
Groot Constantia (Simons)
A gem on the oldest wine farm in South Africa. Nestled in the fertile Constantia Valley, lies the more than 300-year old wine estate, Groot Constantia. On it, in a prime location, you will find Simon's Restaurant. At Simon's we celebrate the riches of the Cape winelands by transforming the freshest ingredients into delicious, memorable meals. Revel in the Cape Town summer by dining al fresco on our terrace with panoramic views of the Groot Constantia vineyards. Savour the wines of the valley or enjoy our wide selection of craft beers. As the weather turns, join us inside where we like to light a giant fire on chilly days.
Bistro Sixteen82
Located in Cape Town and nestled in the idyllic Constantia Valley winelands; Bistro Sixteen82 is an innovative and interactive wine and food destination. Bistro Sixteen82 sits adjacent to Steenberg's winery and Wine Tasting Room, and spills into its surrounding indigenous gardens with a terraced dining area leading to reflective water features, unfurling into views of the magnificent stone mountains and expansive winelands.
Cavalli
Voted South Africa's most Stylish restaurant at the "Eat Out" Awards, Cavalli restaurant has quickly established itself as a must-visit dining destination in the Cape Winelands, overlooking a serene dam set against the backdrop of the magnificent Helderberg mountain range, and has quickly become a favourite among discerning foodies countrywide.
Delaire Graff
A dining experience is an expression of the seasons, where classic bistro favourites are served with the finest South African touches. Their story is simple; the best food starts with the best ingredients. Overlooking a sea of vineyards and olive groves planted on the Simonsberg, our views from the terrace span all the way into the Banhoek Valley.
Roca Restaurant Franschhoek
Beautiful views of the Franschhoek Valley.
Tryn
This Cape Town restaurant is contemporary in spirit with fabulous food, bold accents and modern textures.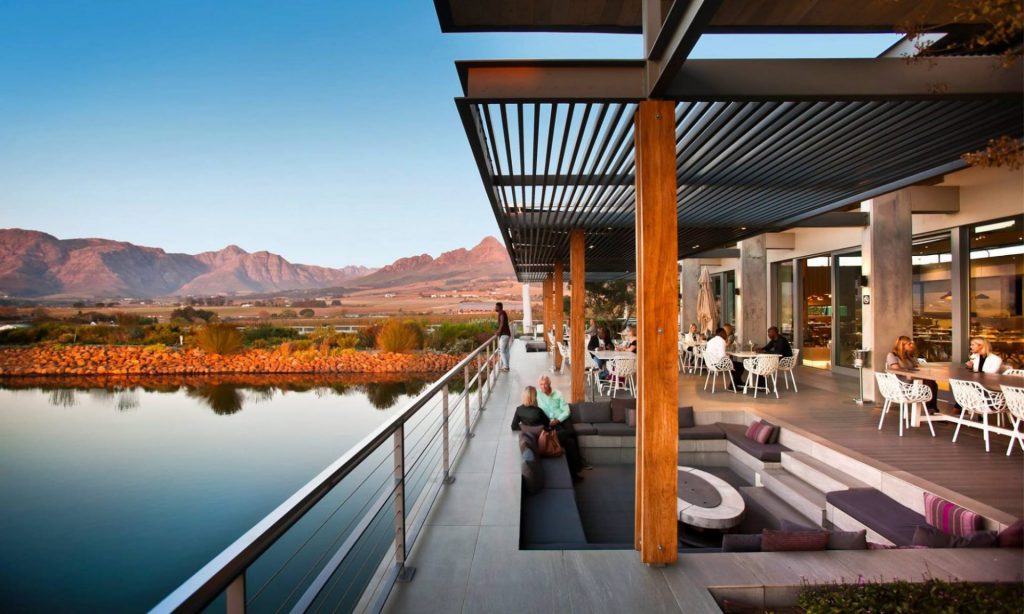 Other Restaurant Recommendations in Cape Town:
Cheynes
Situated in Hout Bay. Serving Pacific Rim cuisine. Sourcing from local as possible to bring you the most amazing and unique dining experience Hout Bay has seen. Pacific Rim cooking combines Pacific Island foods, Asian cooking techniques, local freshness, and a host of other cultural and culinary influences.
Chapmans Peak Hotel
The Chapmans Peak Restaurant was established over 25 years ago. It has become the grand old lady of outdoor seafood restaurants in Cape Town, with decades of worldwide reputation for its famous calamari and seafood. The sun-drenched terrace, ideal for those hot summer days and lingering sunsets, has a spectacular view of the beach, Atlantic Ocean and harbour activities in the background. As for the chilly days, enjoy the welcome warmth of the fireplaces indoors.
La Colombe Constantia
La Colombe has consistently received world-wide acclaim and is positioned amongst the top restaurants in the world.
Pot Luck Club
Sophisticated tapas served in a chic, buzzy locale with glass walls & views of Table Mountain. The Pot Luck Club, situated on the top floor of the Silo of the Old Biscuit Mill on Albert Road, Woodstock.
Bukhara
Bukhara has set a new standard in Indian cuisine in South Africa, taking the eating culture from the corner curry house concept to an upmarket and modern interpretation through superior design, ambience and product. Bukhara specializes in various methods of Indian cooking, all with a slant to north Indian origins. Succulent meats cooked in the charcoal tandoor and aromatic curries continue to delight palates in Cape Town.
Short Market Club
Everything about The Short Market Club keeps you on your toes, and you can look forward to a world class meal in a luxurious, unique restaurant setting. While you're undoubtedly here for the food, the interiors are certainly a feast for the eyes all by themselves. The opulent space.
Willoughby and Co
Popular shopping-mall restaurant turning out creative sushi preparations & other Japanese dishes. Since opening in 1996 Willoughby & Co has offered its guests a full Japanese culinary experience. Head Asian chef, Sam, and his dedicated team have continued to create new and exciting dishes. Through these creations thousands of patrons have been introduced to fusion style Japanese cuisine, for which Willoughby & Co has become world renowned.
Hussar Grill Steak House
Voted the Best Restaurant in Camps Bay according to TripAdvisor 2014, The Hussar Grill Camps Bay is situated in one of Cape Town's most beautiful and glamorous locations, with outstanding views that only Camps Bay can offer. Slightly bigger than most other Hussar Grills, it offers a distinct dining experience in a setting that is reminiscent of old-school dining complete with dark wood finishings, banquet-style seating and wooden wine crates. In winter a fireplace adds to the relaxed, cozy ambience.
The Grand Beach Club
Cape Town's favourite destination restaurant and venue, Grand Africa Café & Beach embraces a free-spirited beach café culture, nestled poignantly on the sea-front shoreline and flaunting her majestic views of the mighty Atlantic and Robben Island.
Bobo's Brasserie
Featuring contemporary cool interiors and comfortable seating, Bobo's makes for the perfect place for everyday eating for the whole family. Uninterrupted sea views are paired with a deliciously accessible menu, making Bobo's a favourite local go-to.
Skotnes
Overlooking the foundation's serene wetland and Sculpture Garden, the Skotnes seamlessly integrates nature and architecture. The menu pays homage to classical South African cuisine, while updating its flavours and distilling its ingredients to their simplest possible presentation.